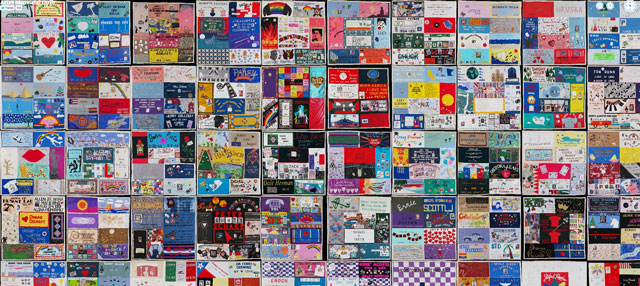 Doty's collection, dominated by meditations on impermanency, decay, and death, features memorably moving lines on the AIDS Memorial Quilt.
What is it?
It's a collection of poems by American poet Mark Doty, first published in 1993.
OK, you said in another review that you don't often review poetry collections because they're not specifically queer in character, even if the poet is queer. Is this one?
Yes and no. Yes, because the poet (who is gay) wrote this collection in the context of the AIDS crisis, which informs the entire collection. On the other hand, as is so often the case, the poetry is so lyrical and rich in metaphor that it doesn't really come across as overwhelmingly gay/queer/LGBT.
So will it appeal specifically to an LGBT audience?
This is a fabulous collection, which I would recommend to anyone who loves poetry. But if you're looking for poetry specifically "about" the gay experience, with the exception of a handful of the 21 poems, this isn't really it.
And yet you're reviewing it anyway …
There's no escaping the background of this poetry. It's all about loss, decay, death, with occasional specific references to AIDS (without naming it). It also speaks of life outside the mainstream, a territory that queer folk know well; drag queens, itinerant poets, and homeless folk people these pages. This is perhaps the most aesthetic of gay poetry, but it's still gay. There's a devastating section on the AIDS quilt, in which Doty writes about the poignancy of a shirt sewn into the fabric: "the fading, the pulls in the fabric / demonstrate how these relics formed around / one essential, missing body."
So are you handing out stars for this one (using the Michelin system)?
One. If I were doing a review for a general audience, I'd give it two (this is sublime poetry), but looking at it through a specifically gay lens, this isn't poetry that really speaks much of the gay experience, or mostly only in an oblique and universal way. So while I can't recommend this poetry collection highly enough, I don't think it's "required reading" for those who are seeking LGBT literature that will in some way shed light on their lives.
That's all a bit rarefied. Why don't you just give it two?
Yeah, I'm overthinking this. Seen from a certain light (which is my light but won't be everyone's), this collection is all about the gay experience, but it's up to individual readers to see what resonates with them. IMHO, the topic of death has a particular resonance for gay people, quite apart from the AIDS tragedy. So do issues of marginality, imperfection, and just bloody weirdness. These things all spoke to me as a gay man. So you're right, I'm giving it two. It deserves two. Two stars. Two.