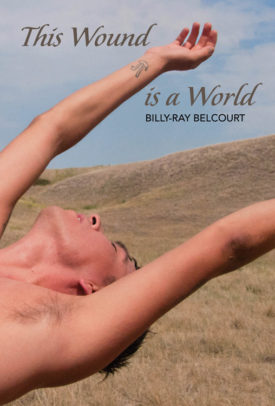 I love this cover! And what's inside is even better ...
What is it?
It's a collection of poems by Indigenous Canadian poet Billy-Ray Belcourt, first published in 2017.
You don't often review poetry collections.
I don't know that there are a lot of poetry collections that fit under the LGBT umbrella. Queer poets don't necessarily make queer poetry. W.H. Auden, for instance, was gay, but I'd never review one of his poetry collections as gay poetry, as sexuality isn't a major theme of his.
But this is queer poetry?
Very much so. Almost every poem in this collection speaks of the experience of being gay, gender fluid, and Indigenous. These states of being are intimately intertwined here.
Is it worth reading?
Absolutely. This is a fabulous collection. What's remarkable about it is the constant presence of the twinned themes: indigeneity and homosexuality. But although an entire collection of poems built around a common theme can be repetitive, this one isn't. The theme is so huge, and the pain that Belcourt expresses is so massive, that the collection holds together as one monumental work of art. What was fascinating for me was the way Belcourt writes about sexuality as an act that "might" heal. While he touches on all the aggression that is present in male sexuality, this notion of redemption or salvation through the physical act of intercourse is a curiously gay one, it seems to me. So I was profoundly moved by, and empathized with, all he had to say in this regard, while only able to listen with profound sadness and a sense of shame (as a white man) to the anguish he expresses as an Indigenous person.
          This is that rare thing, a poetry collection that I will read from cover to cover again, and again. It carries, in the brutal honesty of its words, a power to perhaps begin to heal wounds, whether those stem from a history of colonial oppression or from the universal fact of being human and seeking love. There is great wisdom and understanding here.
Stars (using the Michelin system)?
Two. This is a collection that makes me believe that poetry can be important and relevant in the twenty-first century. It's not just a major work of queer poetry, it's a major work of poetry. I am blessed to have read it. And, I hope, changed by it. I believe that's possible.