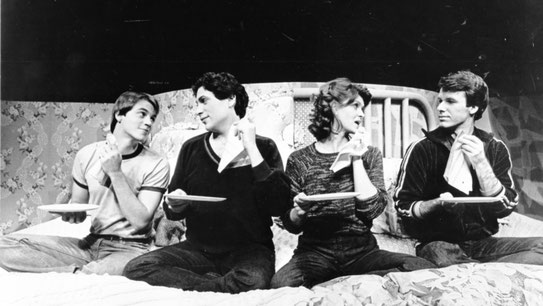 Christopher Marcantel, Harvey Fierstein, Maria Cellario and Will Jeffries in Fugue in a Nursery, the second episode of Torch Song Trilogy. 
What is it?
It's complicated. It is three individual (relatively short) plays—The International Stud, Fugue in a Nursery and Widows and Children First!—which were originally produced in 1978 and 1979, and then mounted on Broadway as a single entity called Torch Song Trilogy in 1982. The latter was later adapted and shortened to produce a more easily digestible evening of theatre, under the title Torch Song, in 2017. The new edition of the plays (published in 2018) contains the three original plays together with Torch Song.
Phoo. So you get to read them twice, once in their entirety and then again in a condensed version?
Yes, but it's not a hardship, more like a pleasure.
Okay, you liked these. What are they about?
It's essentially the story of Arnold, a New York drag queen, and his search for happiness. The three plays cover about five years, during which Arnold has an on-again, off-again relationship with a bisexual guy named Ed. In the last of the three plays, he attempts to construct something resembling a family by adopting a gay teenager, to the horror of his mother.
That issue of what a gay "family" would look like is an eternal one.
Yes, the play is maybe a bit ahead of its time in that respect, given that it was written at a time when gay relationships themselves were generally not accepted in society, and many gay men were more focused on simply surviving than on building a family. (The contrast with Andrew Holleran's contemporaneous Dancer from the Dance is striking.) The plays occasionally seem very much of their time (Ed is preoccupied with hiding the homosexual side of his nature), but the essential questions are timeless: what (if any) is the relationship between sex and love, are same-sex relationships somehow "less" than heterosexual ones, can/should a same-sex marriage/family look like a heterosexual one, are bisexuals just chronically indecisive? On the latter point, I know that bisexuals object strenuously to that categorization; I will just point out that Ed is the ne plus ultra of the ever-wavering bi guy.
          It's important to stress, though, that this is a comedy. It's very funny, in that New York Jewish way. The comedy is sometimes of a sitcom variety (especially in the third of the plays), with one-liners following in quick succession, but there is wisdom and acute observation in the more telling lines, and deep emotion just under the surface.
A star or stars?
Two stars. This is a seminal work of gay writing: a window into gay New York of the 1970s, but also a timeless comic look at the complexities of being gay. It is also a play script that produces an enjoyable reading experience.