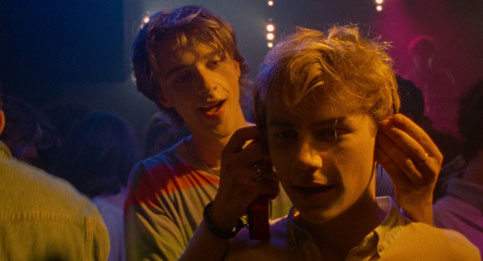 Benjamin Voisin as David and Félix Lefebvre as Alexis in one of the most memorable scenes.
What is it?
A French film released in 2020, written and directed by François Ozon.
But how did you see it?! The cinemas are all closed.
I'm not a complete Luddite! I streamed it from a local cinema, and supported that cinema in the process. It's called social solidarity.
Gotcha. Glad you educated me on that. So, what's it about?
In the summer of 1985 in a coastal town in Normandy, a 16-year-old boy named Alexis meets and has his first experience of love and sex with an 18-year-old named David.
Okayyyy . . . That's pretty basic as a premise.
Yes. I sometimes think that the genius of French cinema is its ability to make something very special out of a very small, particular story. That's what happens here. This film's portrait of the ecstasies of young gay love is exquisite. There are a few scenes in this film that are just utterly sublime, that took my breath away. In the end, it's heartbreaking, kind, funny, honest. Young love is so tender and fragile and beautiful (not that I would really know, but I can imagine), and it's rendered perfectly here.
You sound all kind of gushy and soft, John.
Yeah, this one really got me! There's not a lot more to say. Have a box of Kleenex at the ready. For its portrayal of queer teenagers in love, I've never seen anything better than this.
          But lest I've made it sound too banal or mainstream, I will just add that the film flirts with melodrama, the Gothic, and (in one episode) cross-dressing—all characteristics beloved of queer cinema. This is not a heteronormative love story masquerading as gay. It's really gay. It's the real thing.
Stars?
Two. A small classic of gay cinema. A jewel to cherish at the end of a rough year.