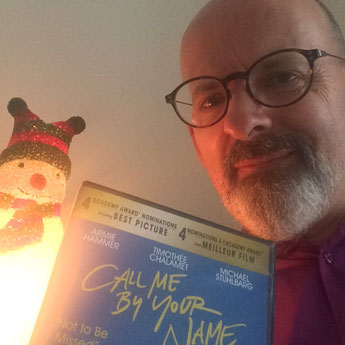 Our Christmas Day viewing. Maybe we should have stuck with "The Sound of Music".
What is it?
A 2017 Italian/French/American film, directed by Luca Guadagnino, adapted from a novel by André Aciman.
The story?
A multilingual, precocious 17-year-old son of intellectual parents falls in love with a visiting (male) American scholar in the lovely Lombardy summer of 1983.
Sounds nice.
Yes, it's a fantasy. This is an Italy with no tourists, where everyone is well off. There's no context. It's just all Euro-glam. These people come on to one another by discussing classical music or antique sculpture or Heidegger.
Am I detecting a sour note to this review?
It's entirely watchable, if you like pretentious fairy tales. It's an old-time Hollywood romance, with a nice-looking couple (who just happen to be two men) spooning against an idyllic backdrop, to a soundtrack of syrupy love lyrics.
What's with the "who just happen to be two men"?
This is a film in which the main characters are just individuals who make individual decisions with no societal context. So, these two guys decide to fall in love and have sex. Doesn't mean they're gay! Doesn't mean they're bi! They certainly aren't remotely queer. Just two guys having fun.  
So you didn't like this portrayal of homosexuality?
It's not homosexuality. As far as I can gather, these guys are either straight or bisexual (and there's a suggestion that Elio's father is bisexual too, but has never acted on the homosexual side of that equation). But it's all speculation, and it's probably doing a disservice to the notion of bisexuality. If you believe that we're all just kind of a mix of this and that, hey, it's all a spectrum, we can all be everything—bit black, bit white, bit Jewish, bit Buddhist, bit gay, bit bi, bit man, bit woman—then you may love this film. I find that attitude superficial and unrealistic. Like it or not, we are certain things and are not certain other things. I don't fall in love with guys because I'm straight; I do it because I'm gay—and it comes with consequences. There are no consequences here. (Elio has the most cool, understanding parents ever.)
No stars then?
No. If you just want a pleasant film to watch, this one looks good and is well acted. But from a queer perspective, it's an empty shell.