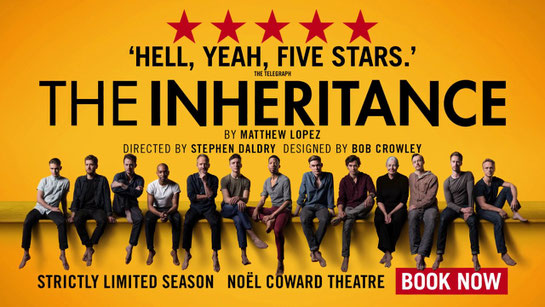 Poster for the 2018 production in London's West End. 
What is it?
It's a two-part play by American playwright Matthew Lopez, i.e., an epic play that is performed as two complete (each fairly long) evenings of theatre, like Angels in America. It was originally produced in London in 2018, and then on Broadway in late 2019.
What's it about?
It's the story of a group of gay men in New York, between 2015 and 2018. They fall in love, they get married, they have sex, they break up (not necessarily in that order). And they discuss what it means to be gay at this time in history (with, of course, some reference to the 2016 election).
That sounds reasonably ... banal?
It's anything but banal. Describing the "plot" is misleading, because the play is so rich. First of all, the "ghost" of gay novelist E.M. Forster plays a major part (the play is in fact a queer reworking of Forster's Howards End—almost as if Lopez is writing the story Forster might have wanted to write but couldn't). Secondly, through the various interweaving storylines, the play explores almost every major aspect of modern (and sometimes historical) gay life. This is truly epic, a play of astonishing range.
You weren't a big fan of that other gay epic, Angels in America.
I wasn't, but The Inheritance—for all its epic scale—is very approachable. In some respects, it is a very conventional drama, involving long scenes in which people simply talk to each other. And it's not remotely pretentious (unlike, you know …). And while Angels in America seemed to me (from what I could gather) to be an attempt to encapsulate the spirit of the United States, albeit through a gay lens, this play is much more specifically about what it means to be gay.
So, does it come down with a "verdict" about what it means to be gay? Tell me!
Not really. It looks at things from all sides, but in the end it comes down on the side of love, affection, caring. Overall, I would say that the main theme of the play is the search for community—a sense of gay men belonging to a continuum that stretches back to E.M. Forster, exploded into view with Stonewall, gained a sense of solidarity through AIDS, and now has a responsibility to move forward with a sense of our history. I love the fact that the play itself is a monument to what the play is saying: it's building on the gay past (Forster's novel) to create something for today.
So, does it get a star? or stars?
Three.
Sorry?! Did you say three? You haven't given any play a three.
Indeed, this is a big day! The Inheritance is a fabulous play to read, and I would even call it a must-read for gay men. There's so much to chew on here. It's a truly great piece of drama. It's about who we've been, who we are, and who we might strive to be. And its 100% gay. I just hope I'll get to see it someday, when theatres reopen. But it's a very literate play, an enjoyable, stimulating, inspiring and moving reading experience.