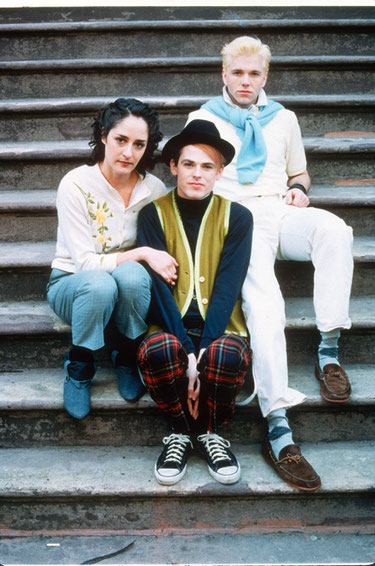 Tina Holmes as best friend Maggie, Chris Stafford as main character Eric, and Andersen Gabrych as first gay crush Rod, who will teach Eric that having sex doesn't mean you care.
What is it?
An American independent film released in 1998, directed by David Moreton and written by him and Todd Stephens.
What's it about?
In Sandusky, Ohio, in 1984, high school student Eric explores his sexuality.
Sounds like a decent premise for a movie.
It is, and it's focused. This movie reminded me of a French film in that it tells a "small" story, nothing flashy, remains true to itself, and doesn't seek an obvious climax. I haven't often seen an American film that is so understated, quiet, delicate. The screenplay eschews plot complication or major dramatic showdowns, and instead just tells its story with grace.
And the story is …
Eric has a best friend who happens to be a girl, Maggie. She clearly thinks they're heading towards coupledom, but he seems happy just hanging out. Then he meets a very out lesbian and a young gay man on a summer job, and begins to explore his personal style and gender identity. He gets a cool haircut, dies his hair, wears eyeliner. He starts to dress better and visits the local queer bar. Eventually, timidly, he tries sex with guys, while insisting he's straight. In other words, he's confused. And the confusion basically continues. This is life. In the end (spoiler alert), he decides he's gay. But maybe he's one of those men who love women but prefer meaningless sex with guys. Either way, he's queer.
So, you liked the screenplay. Anything else?
The acting is understated and sincere. Chris Stafford, who plays Eric, does a beautiful job of portraying the befuddled search for self-knowledge. And all the other actors offer up equally understated and believable characterizations: Eric's loving mother who struggles to understand what's going on with her son; Maggie, the lovely best friend whom anyone would want to have and no one would want to hurt; Angie, the out and proud lesbian who offers Eric some guidance; and Rod and Jonathan, Eric's first crushes.
Stars?
Yes, a star! This was a very pleasant surprise for me: a small American film from the 1990s that I'd never heard of, offering a poignant, de-sensationalized portrayal of the fumbling for sexual understanding and acceptance in 1980s small-town America. A little jewel. And the truths it explores are still truths in 2021.