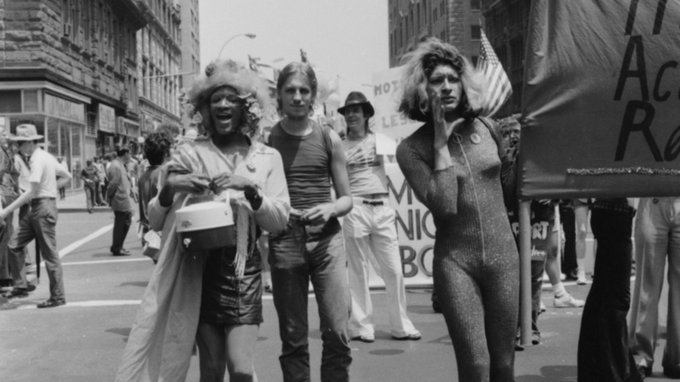 Marsha P. Johnson and Sylvia Rivera (with a lovely guy between them) in 1973.
What is it?
A 2017 American documentary directed by David France.
What's it about?
Victoria Cruz, a trans woman active in LGBTQ anti-violence in New York, undertakes to explore the mysterious death of Marsha P. Johnson, also a trans activist, a quarter-century earlier. Thus, the film shows the contemporary face of trans activism in New York (and why it's necessary) and also goes back to talk about the life of Marsha P. Johnson and why her death was not properly investigated. And, in another thread of the tapestry, the documentary looks at the life of Sylvia Rivera, Johnson's close friend and a very strident activist herself.
That's a lot. Does the film manage to hold all of that content together?
It does, magisterially. In fact, there's even more: the trial of the murderer of a trans activist that is taking place at the same time as the retrospective investigation of Johnson's 1992 death.
Sounds compelling.
It is. In the end, the film offers a panoramic view of the often neglected T in LGBT, and the sometimes tenuous support offered to trans people by the rest of the rainbow community. At a time when trans men and women are, more than ever, suffering violence and being made scapegoats, the film is important viewing. Trans people are often seen as inexplicable and threatening by the rest of us, and the only way to counter this attitude is by facing it head-on.
Stars?
Two. I'm maybe slightly inflating this (don't get me wrong, it's definitely a one!), but I think this is more than just another good LGBT film. It's important to see this film. It's a compelling historical document, and a highly watchable and thought-provoking documentary.