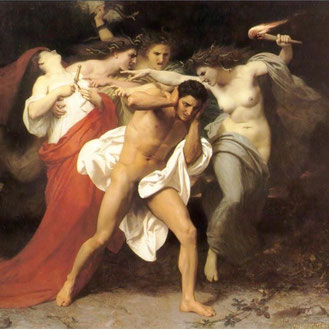 Great-looking guy, that Orestes, but man, what a life! 
Orestes Pursued by the Furies
by William-Adolphe Bouguereau
What is it?
A novel, written by Colm Tóibín, first published in 2017.
What made you choose this book to review?
Colm Tóibín is one of the most acclaimed novelists of our day, and also happens to be gay and to have written very eloquently about gay lives, such as that of Henry James. So I think anything by him is worth looking at from a gay perspective.
Is this book about gay lives, then?
Well … no, not really. It's basically a novelization of the story of the Atrides, beginning with the sacrifice of Iphigenia and continuing through the murder of Agamemnon by Clytemnestra, and the fallout for their children, Orestes and Electra.
Wow, that's a long way from Henry James!
Yes, Tóibín's range is impressive. That said, I didn't really enjoy this book very much. The characters remained somehow fixed on the page; they didn't come alive for me. So I didn't care about them much. Which means, in the end, it was just a very depressing story enlivened by some great writing. There were some bits that were very compelling—Tóibín is a fabulous writer—but other episodes dragged endlessly (Orestes' wanderings, for instance). By chance, I'd just read Euripides' trilogy about the Atrides, which is wonderful. I'm sorry to say this book didn't add anything, and was infinitely less compelling.
Was there any gay content as such—not that we're obsessed or anything, but …
There is a definite homoerotic element in the relationship of Orestes and his friend Leander, and perhaps also between Electra and Leander's sister. But it's not a major strand in the novel.  
I'm guessing you won't be giving this one any stars (using the Michelin-guide 3-star system)?
Sadly, no. A real disappointment.