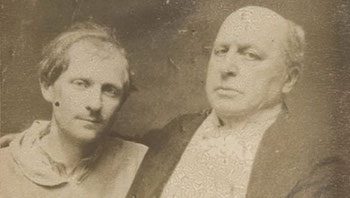 The real-life Henry James and his friend (boyfriend? lover? manipulator?) Hendrik Andersen, characters in The Master
What is it?
A novel, published in 2004. 
What is it about?
It's a fictionalized account of the life of the American expatriate writer Henry James, from January 1895 until January 1900. It opens with the monumental failure in London of his play Guy Domville, follows him on trips to Dublin and Italy, recounts his re-location from London to a village in Sussex, contains flashbacks to his childhood and youth in Boston.
Is there lots of sex?
No, there's none.
Okay. I thought this was supposed to be a blog containing reviews of LGBT-related books, films, plays. So what's the LGBT content here?
Well, Henry James was homosexual, and so is the book's writer, Colm Tóibín.
Gotcha. But … where's the gay sex?
Please! There's no gay sex. And there's more to being queer than having sex. The thing is, Henry James is kind of fascinating, because although he was homosexual, it's not clear that he, you know, did anything about it. And apparently there's nothing much in all his writing to suggest he's queer. So it leaves one asking how he could be so controlled. And in the end that's what this book is for me: an exquisite portrait of a man (who happens to be homosexual) who represses an entire side of himself, so that he ends up sort of walking a bit beside his own life. Which made him a great writer, perhaps, but it's all rather sad.
Oh, so he's a great writer?
Well, personally, I can't stand him. I thought reading Wings of the Dove would be the end of me, I couldn't wait for the main character to die. But he's widely considered to be a great writer.
So what did you think about The Master?
Wonderful! It's one of the best contemporary novels I've ever read. I can't say enough good things about it. The writing is just sublime. The novel is interesting on many levels (it's a terrific portrait of how a writer writes), and it's even laugh-out-loud funny at times (the story of the drunken servants!). But approaching it from a queer perspective, I'd say the whole thing is a study of a particular type of homosexual man who is uncomfortable with his sexuality and develops an almost superhuman self-control … which, however, is sure to crack at some point. (An aside: This all sounds awfully familiar. It's a little too close to home! Can we change the subject, please?) Although there are only certain sections of the novel that deal specifically with homosexuality, the whole psychology of Henry James is queer. And the segments that talk of his intimate life, such as it is, are full of tension (will this man never breathe?!) and are desperately moving.
Did you have a favourite sentence or phrase?
Thanks for asking that. In fact, I do. Tóibín describes one person as standing in a doorway looking like "a cross between a ghost and someone who has seen a ghost."
What rating would you give it (using the Michelin-guide 3-star system)?:
2 stars (worth putting aside the entire Henry James collection in order to read this)