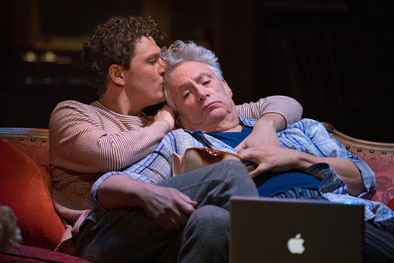 Gabriel Ebert and Harvey Fierstein in the 2017 production at the Public Theater in New York.
What is this?
It's a play, written by Martin Sherman, first presented last year (2017) in New York.
You more often look at "classic" gay lit and films. So what made you read this oh so contemporary work?
Martin Sherman is one of the most prominent gay playwrights, author of the classic Bent, about persecution of homosexuals under the Nazi regime. This is his first play in many years (he's over 80 now), and it focuses specifically on the gay experience over the past decades, so it's an important work from an important gay writer who is very knowledgeable about gay history.
What's it about?
It's a simple play, with only three characters. It follows the relationship between an older gay man, Beau, an American pianist living in London, and a much younger fellow, Rufus. It follows them from their initial meeting (brought about through a gay dating site) in 2001 all the way to 2014. Through these two characters, Sherman is able to talk about gay lives from the 1940s (in Beau's recollections) up to the present, from New Orleans to New York to Paris to London. In the process, Sherman brings to light some lesser-known episodes and personalities in gay history, and creates a real sense of a gay lineage.
But this is a play, not a history lesson, right?
Yes, alongside the history (which is recounted because Rufus, who is only 28 when the play begins, has a sense that life was more interesting for gay men in the past than it is today), there is a love story between Beau and Rufus, which later modulates into a close friendship, as Rufus takes up with another fellow (Harry) and they get married and have a child, with Beau as a kind of grandparent. Again, Sherman is building the sense of a "gay family" with an "ancestry", both literally and symbolically.
It sounds interesting. But does it work?
I found the play engrossing to read, and moving. It poses questions about how happy gay people can expect to be, and whether having a "normal" life (i.e., married with kids) is better. To his credit, Sherman doesn't provide easy answers. Although he seems to be suggesting that things have changed to the point where gay lives are as untroubled as any others, there is an interesting extra-textual irony: Towards the end of the story, Beau tells of how the great love of his life died in the UpStairs Lounge fire in New Orleans, which was the worst attack on LGBT people in the history of the US. But of course, the Orlando nightclub shooting of 2016 (which took place after the events of the play) killed many more people, and was more unambiguously a hate crime. So are things getting better? It's an open question, and Sherman has Beau talk explicitly at one point about how things can go backwards as well as forwards for gay folk (the Weimar Republic versus the Third Reich).
You didn't give Bent, Martin Sherman's most famous play, any stars. What about this one (using the Michelin-guide 3-star system)?
1 star. I think, for gay readers, this is a provocative and topical piece of writing, worth reading (or seeing, if you have the chance) and talking about.