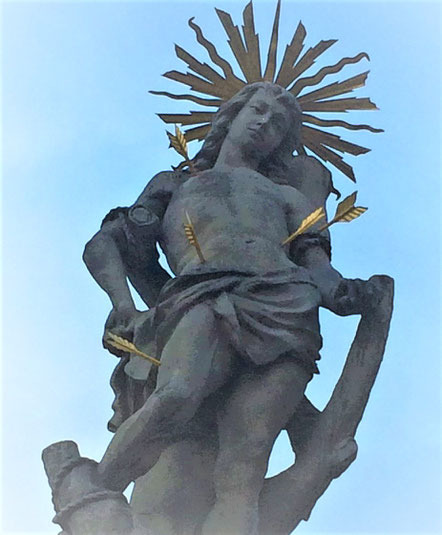 I took this pic of a statue of Saint Sebastian in Olomouc, Czech Republic, in 2015, a few days after my last trip to the Prague Fringe. Little did I know that four years later I'd be heading back to Prague with a show in which Sebastian plays a major part.
---
My first time at the Prague Fringe, in 2009, I burst into tears the day of my arrival.
            I had booked a cheap room at the top of the magnificent, crumbling, frozen-in-time Grand Hotel Europa on Wenceslas Square (which I will never be able to afford to stay at again, as it's currently being refurbished), and once I had got off the airplane, taken a bus into the centre, walked to my hotel as if led by some sixth sense, took the tiny, scary elevator up to the top floor and put down my luggage in my small Communist-designed room with the orange telephone under the rafters, I sat on the window seat looking out into the Square and thought, Who do I think I am? Who, in this magnificent jewel of a city that breathes history and art and tragedy, is going to want to listen to a Canadian guy tell a little love story?
            I felt totally out of my depth. Hence the tears.
            When I went back out, I made my way to Karlovo Náměstí and sat on the grass near two girls, one of whom was crying her eyes out. (What is it with this city? I wondered.)
* * *
A weird thing, in retrospect, is that after I left Prague in 2009, it didn't really occur to me that I could ever return. As wonderful as it all had been, I thought it was a once-in-a-lifetime event, like having an audience with the Pope or something like that. As the months and then years went by, I would think and speak of my time in Prague as this out-of-body experience where I was magically whisked off to the Technicolor world of Oz, only to be returned to "reality," that is to say, brown-hued, black-and-white, sensible Canada.
            I remember looking with wonder at the Prague Fringe website in 2011 and seeing that there were performers I had met in 2009 who had now returned to Prague, from the United States or the UK or Australia, and I thought, How is that possible? You can have that kind of experience more than once?
* * *
So it was five years before I returned to the city of tears and exhilaration. I was nervous about coming back. Will it all seem less wonderful than the first time? I asked myself.
            Actually, no. It was even better the second time. I stayed in an apartment that was reached by a stone staircase right out of Dracula. I hung around the Fringe Club in a way I hadn't on my first visit, was much more sociable, saw many more shows, and enjoyed the Fringe at a whole new level. I was blown away that there were people who had seen my show five years earlier and remembered it in detail.
            I cried some more! I was sitting one day in the fabulous Obecní Dům café, and "The First Time Ever I Saw Your Face" started playing, and I got all choked up. And then it played again. It had got caught on some kind of endless loop, and it just went on and on and on. I eventually stumbled out into Náměstí Republiky, a sodden, emotional wreck. And then I went and did my show that evening and drank pivo at Malostranská Beseda and all was well.
* * *
So well that I returned the following year! As one of the artistic directors put it to me, waiting for me to come back to Prague was like waiting for a bus: there's none and there's none and there's none, and then two come together!
            Would it be disappointing the third time? Noooooooooooooo. Once again, I was in the cosy Kavárna 3+1 (sadly, no longer a Fringe venue), which felt like a home away from home. I danced at the ceilidh with festival co-founder Carole Wears. I was training for a half marathon and did lots of running. I won an award on the last night for being the Sweetest Performer (I kind of thought I might win when I heard the name of the award).
* * *
And now another four years have gone by. There have been other international theatre festivals in the meantime (in Dublin and Brighton), and a lot more performing in my home city of Montreal. It's all been great, but …
            Prague calls! It's now been ten years since my first Prague Fringe, and a lot of life has been lived by me since then. There are new things to share. I'll be in a new theatre space. My show this year is rather different from the ones in the past. But despite the changes, I suspect there will be comforting constancy too. That's part of the magic of Praha.